"CIRPASS – Shaping the future of the Digital Product Passport", will bring together European industries, policymakers, R&D centres, standardisation organisations, circular economy and sustainability consultancies, digital solution providers and more, to discuss the future development of the Digital Product Passport (DPP).
Register now: https://tinyurl.com/34t393zm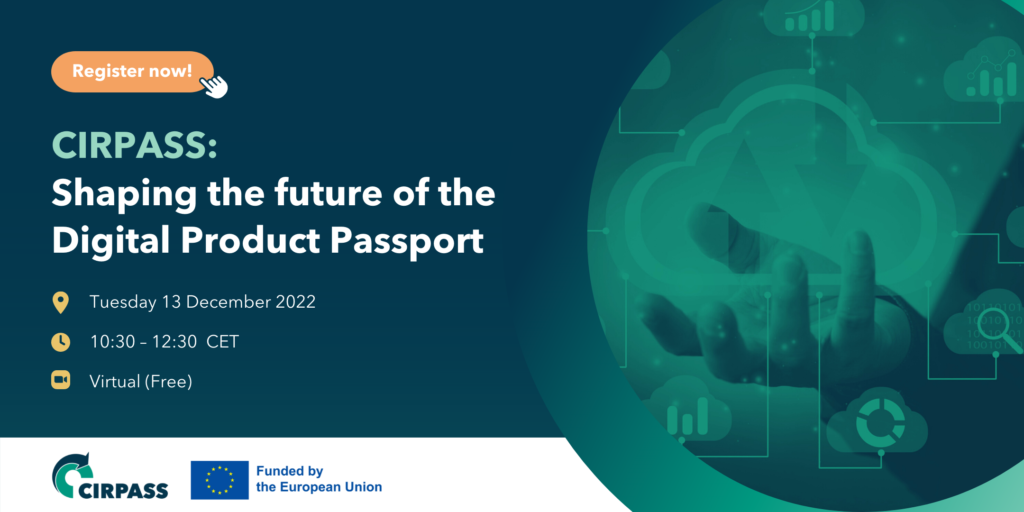 🎤 The online live event takes place on Tuesday, 13 December between 10h30-12h30 CET, and will count with representatives of the CIRPASS – Digital Product Passport consortium to present to the public the project's objectives and planned stakeholder engagement activities, as well as host an interactive panel discussion followed by Q&As.
CIRPASS is an EU-funded project that brings together 30 experienced partners to prepare the ground for the gradual piloting and deployment of DPPs from 2023 onwards, focusing on developing a roadmap for prototypes in three value chains: electronics, batteries and textiles.
Event's Agenda (CET):
10:30 – Welcome
10:33 – Keynote speech by Ilias Iakovidis – Adviser for Societal Challenges & Green and Digital Transitions, DG CNECT, European Commission
10:40 – Introduction to CIRPASS by Carolynn Bernier, Project Coordinator, CEA
11:00 – Panel 1: Shaping the future of the Digital Product Passport
Speakers:
Michele Galatola, Policy Officer, DG GROW, European Commission
Carolynn Bernier, Project Coordinator, CEA
Eduard Wagner, Project Manager, Fraunhofer IZM Berlin
Marcello Colledani, Professor, Politecnico di Milano
Marvin Boell, Project Manager, VDE
Q&A
11:40 – Live polls + short break
11:50 – Panel 2: DPP prototypes in 3 sectors: Electronics, Batteries and Textiles
Speakers:
️William Neale, Adviser on Circular Economy and Green Growth, DG ENV, European Commission
Eduard Wagner, Project Manager, Fraunhofer IZM Berlin
Andreas Schneider, CEO, Global Textile Scheme
Ilka von Dalwigk, EBA Policy Manager, EIT Inno Energy
Q&A
12:15 – CIRPASS Stakeholder Engagement – How you can join by️ Diem Tran, Project Communications Manager, DIGITALEUROPE
12:25 – Closing remarks by Carolynn Bernier, Project Coordinator, CEA